PANE
STAKING

Welcome to Kibble Palace, an otherworldly ode to all that glimmers and grows.
Glasgow, scotland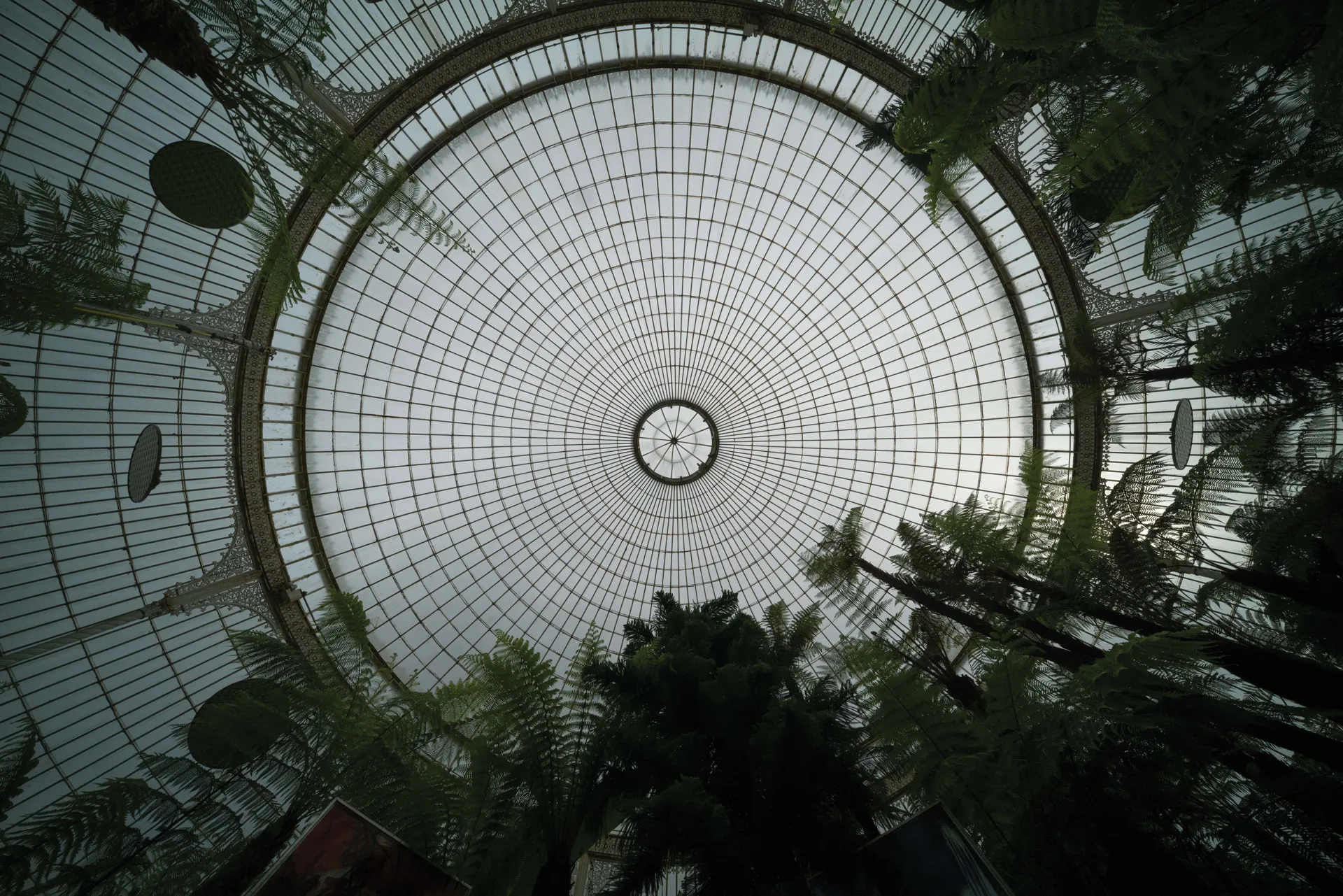 The Glasgow sky is moody and gray–exactly as you'd expect. ("Glas" means grey-green in Brittonic; those Scots tell it like it is.) It's early spring and daffodils are starting to pop up out of the still cold ground, doing their best to cheer up this drizzly city, to shake off winter's gloom.
Here in Scotland's largest metropolis, Glaswegians are famously friendly, and in the chilly dampness their warmth is welcome. As we wander past the West End's elegant townhouses, in the shadow of the University of Glasgow's 15th-century towers, one gent offers an unsolicited tip, pointing us toward a more scenic shortcut to our destination, the Glasgow Botanic Gardens.
"Off to Kibble Palace are ya? Take this high road through the park. It's prettier," he says, his jaunty accent as thick as Scotland's renowned peat.
Pretty it surely is as one enters the 19th-century gates of the Botanic Gardens. The dingy sky brings color into bolder focus and creates a contrast that brings the scale of the surroundings into sharper relief. More daffodils flaunt their neon, interspersed with purple-blue iris. An emerald lawn encircles a Chilean Monkey Puzzle tree (Araucaria araucana)—its sculptural whimsy like something out of Dr. Seuss—all crowned by a sprawling bank of yellow tulips, as good a sign as any that winter is officially in the rearview.

Even amidst the spectacle of the new season, the Botanic Gardens' pièce de résistance is neither flora nor fauna but Kibble Palace, a glasshouse heralded as one of the United Kingdom's architectural and engineering wonders. The palace is constructed solely of glass and iron, giving it the appearance of an immense lantern hovering over the eastern quadrant of the gardens. It, too, was planted here, with roots recounting a curious history. But after a century and a half, as the Botanic Gardens have endured varying seasons of bloom and decay, growth and dormancy, Mr. Kibble's glasshouse remains a breathtaking specimen of Victorian ingenuity, now housing towering ferns and plant specimens from around the globe.
Its centerpiece dome dazzles like a zinnia's many-petaled blossom in stark black and white. Here the fragile and the fecund interface, inanimate glass and graceful unfurling fronds coalesce. Beneath thousands upon thousands of humidity-frosted panes, light refracts into something newly alive. The glasshouse casts a spell, if you will, one that makes it a beloved Scottish landmark, and one that enchanted Ewen Donaldson, the longtime manager of the Botanic Gardens, decades ago and has shaped his life's trajectory ever since.
‍
When he turned 15, Ewen's mother showed him how to navigate the bus route from his rural village so he could begin an apprenticeship as a gardener in Glasgow's parks. "My mum insisted that I get proper training," says Ewen. He first worked in the Botanic Gardens during his third and fourth year of instruction (1972–74) before continuing horticultural studies at the Royal Botanic Garden Edinburgh. Ewen returned to Glasgow Botanic Gardens as a junior manager in 1978 when he first became responsible for the glasshouses, including the Kibble Palace. "In 1992 I became the boss" says Ewen. He and his wife, Fiona, and their two children lived on the grounds in the 'West Lodge' gatehouse, just yards away from the Kibble Palace. "We raised our family here. It was magical. At night my son and daughter had run of the place, riding their bikes all around. But I wouldn't let them climb the trees" he recalls, "They weren't happy about that."
‍
Ewen's deeply personal connection to Kibble Palace is fitting, as the glasshouse, built in the late 1860s, was a personal passion for its creator and namesake, John Kibble. A Victorian eccentric, dabbler, engineer and amateur photographer, Kibble is known for inventing a quirky floating bicycle that he reputedly pedaled across Loch Long, as well as the largest camera ever made. With a 13"-diameter lens and 44-pound plates, it was mounted on wheels and drawn by a horse. Perhaps his fascination with photographic glass plates led to Kibble's interest in glasshouses, but "that's speculation. We really don't know that much about him," Ewen says.

Ultimately, in 1891, the gardens and Kibble Palace were transferred to the City of Glasgow, "to be kept open, preserved and maintained in all time coming as a public park, botanic gardens and place of recreation, for the use of the inhabitants of the City." Under municipal management, fees were no longer charged for entrance to the gardens or Kibble Palace, and Mr. Kibble's magnificent glasshouse shifted from being primarily an open space with a few mosses and ferns, to a space filled with plants, including in 1892, the planting of "the magnificent tree ferns under the centre dome (that) afford a spectacle to be seen in no other city in Britain, if indeed in Europe," as recorded in the minutes of that year's Annual General Meeting.

These tree ferns from Australia, today comprise an official National Collection of tree fern and remain Kibble Palace's distinctive feature. "Some date back to 1880," explains Ewen, who—tall and lanky, distinguished and soft-spoken—seems to resemble them, in the way dog owners often resemble their pets. "Ferns are primitive plants. These are like dinosaurs, really," he adds. Indeed it's hard not to be awed, to feel removed to another place and time, as one walks beneath the canopy of uncurling, feathery fronds reaching up toward the lacy Victorian ironwork—imagine Jurassic Park meets Downton Abbey. 

Having tended these ferns and the Botanic Gardens' other inhabitants, including a prized begonia collection, daily for four decades, Ewen has an intimacy with the plants, a reverence, but he's not one to play favorites. He's just as proud to point out the robust Kahili ginger (Hedychium gardnerianum) planted by Princess Anne when she visited (Ewen also gave Prince Charles a private tour, a career highlight for him), as the funky 300-year old grass tree from Australia, plus a whole wing of carnivorous pitcher plants and Venus fly traps. He equally loves the conifers and alpine plants, and "I'm keen on roses too," he adds, noting the world rose collection opened by Princess Tomohito of Japan in 2003. For Ewen, it's all about sharing his passion and knowledge of the plant kingdom, and that kingdom's historic glass palace.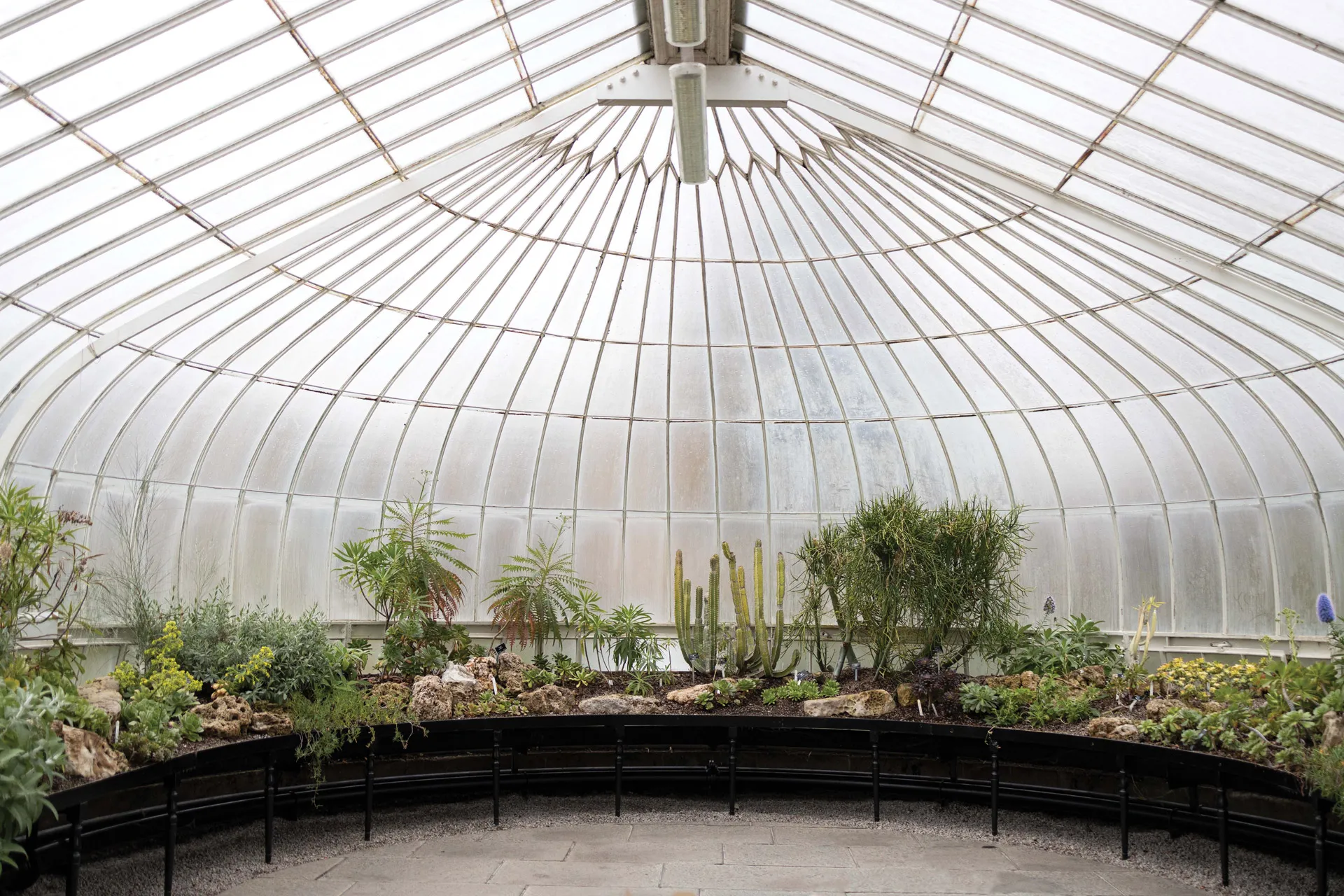 "It's a joy to watch the kids come in—they love the fish, then they walk into the dome and you can see their eyes get big," he says, pointing to the monstrous ferns and looming Japanese banana trees.
"We don't charge admission and are able to offer free tours to students, that's unusual for a botanic garden. Creating an environment like this is fantastic—it's not too massive, you can't get lost, but it gives people an opportunity to enjoy some beauty and serenity, to appreciate the natural world." To expand public exposure to the gardens, Ewen supported the launch of "Bard in the Botanic," a Shakespeare in the gardens series, among other programs. On the heels of a global pandemic, and given the challenges of climate change, the need for a green oasis may be greater today than ever, he notes, "but stimulating an interest in and love of the environment and plants has always been our mission."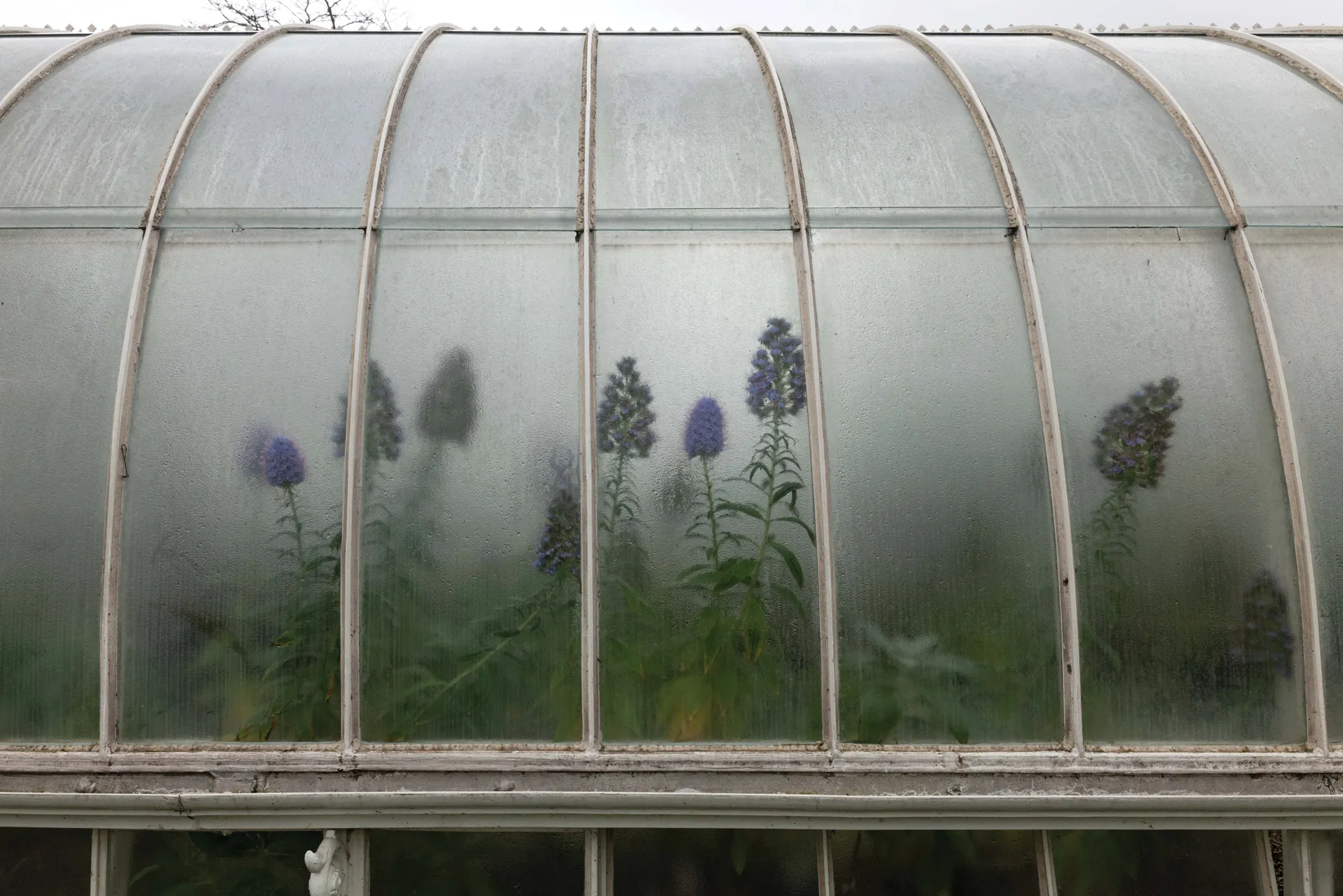 There's also a lot to overseeing a heritage site like the Glasgow Botanic Gardens that includes a Class A historic building—the highest rating possible, which Kibble Palace has been given. Ewen is a gentle, humble man, and the respect his former employees have for him is evident as he walks around the grounds, treated like a celebrity, albeit one sans ego. "Nobody has a bad thing to say about him. He's a clever man—his life was and is these gardens," says Alex Reynolds, a horticulturalist who has worked at the Botanic Gardens for the last four years.
Now recently retired, Ewen jokes that he has picked up gardening as a hobby,
because in reality, during his long tenure as manager of the Botanic Gardens, administrative duties kept him from getting the dirt under his fingernails that he would have liked. Given that he oversaw the total restoration of Kibble Palace from 2003 to 2006, you can see why.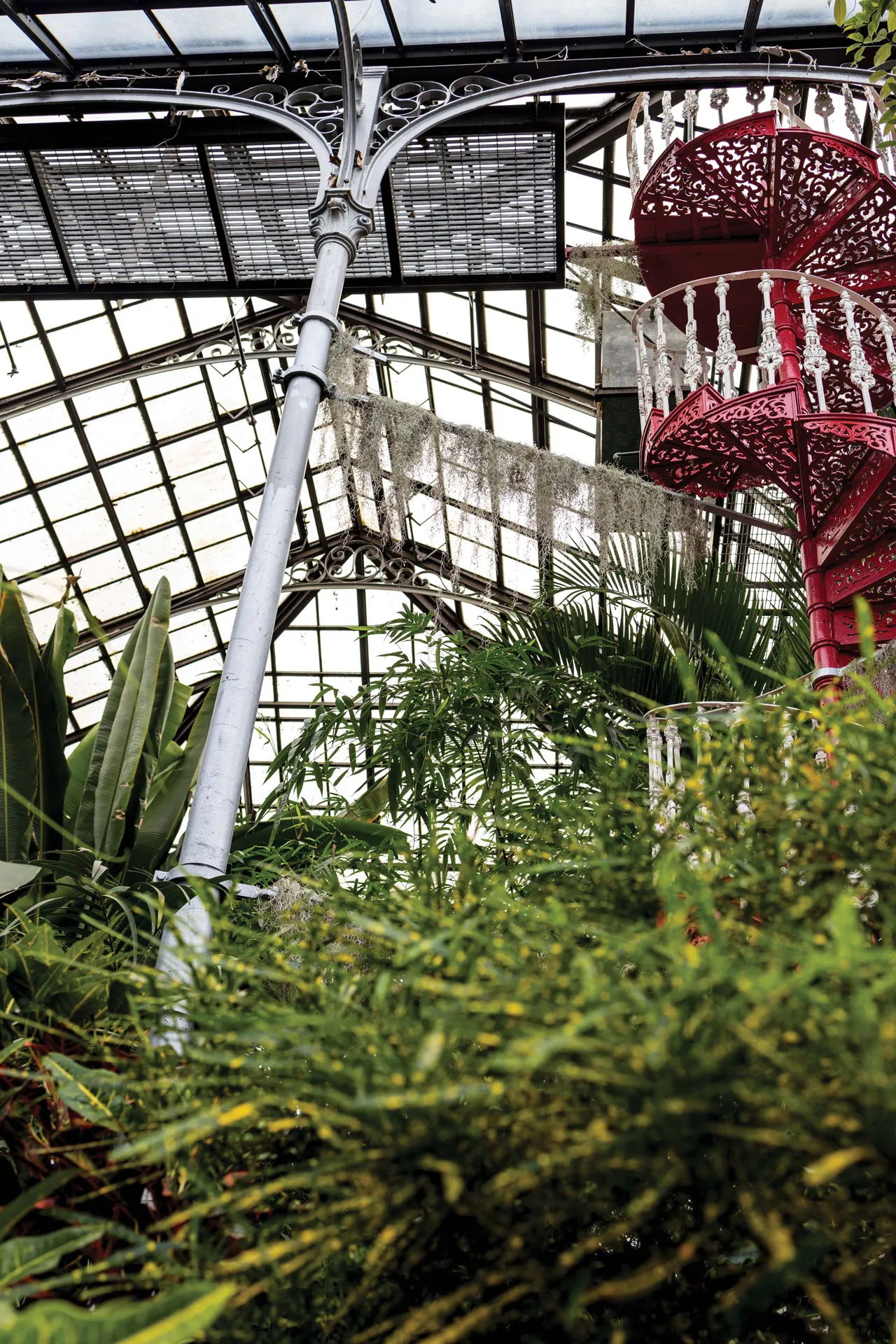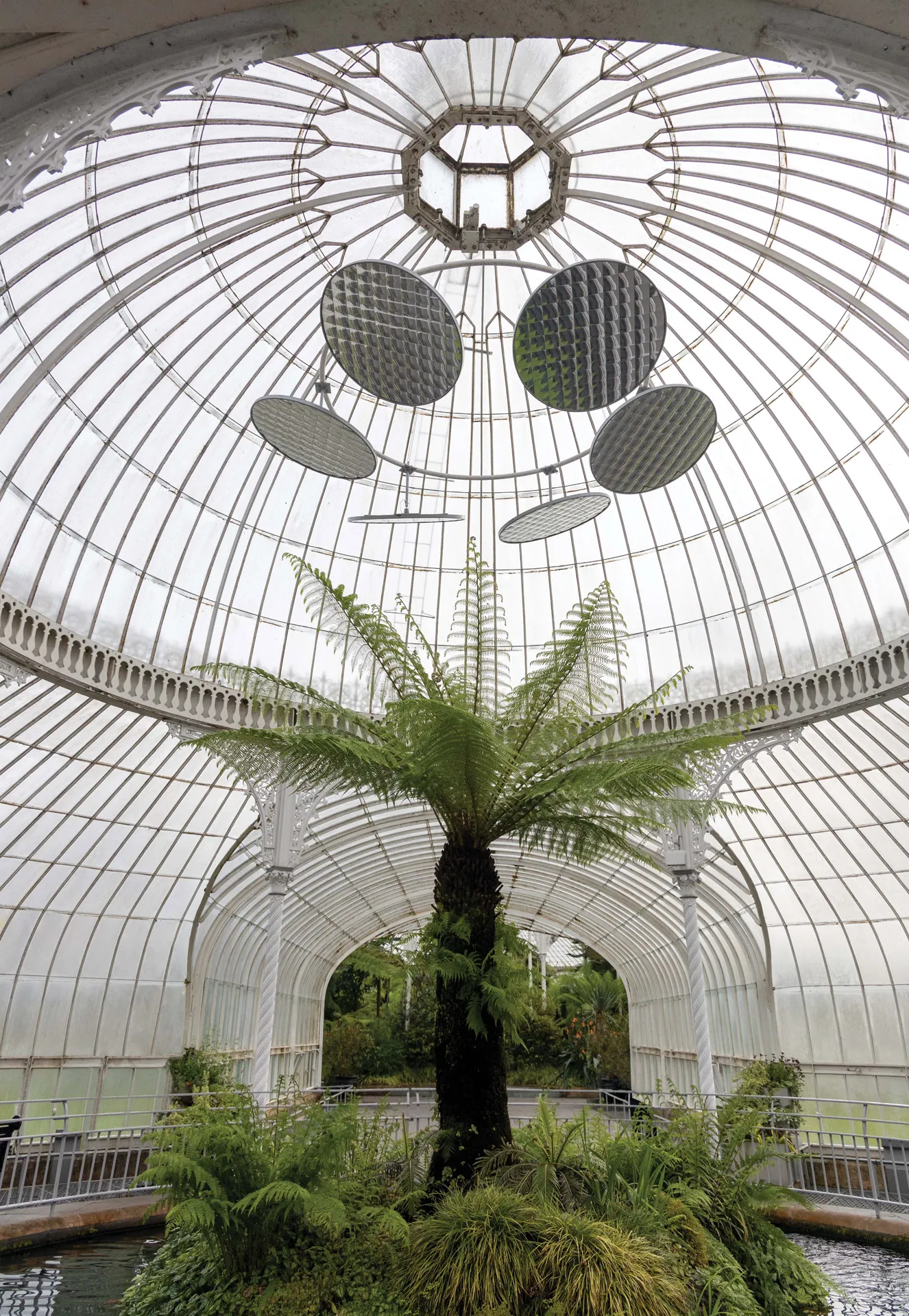 "We fully dismantled it for the first time since 1882. All the iron bars were stripped of paint—28 layers!—and much of it lead, which is why we had to do all of the restoration off-site," he explains.
Ewen and his team raised £7 million ($8.6 million), much of it from the Heritage Lottery Fund, to underwrite the extensive project, which not only entailed moving every plant out of the palace, but painstakingly cataloging the glass and structure into a database, as no plans survive from Mr. Kibble's day. Before the restoration, the ventilation system was manually operated by turning big iron wheels that now hide, at ground level, in the fern forest. "They rarely worked," says Ewen, who welcomed the modern electronic upgrade.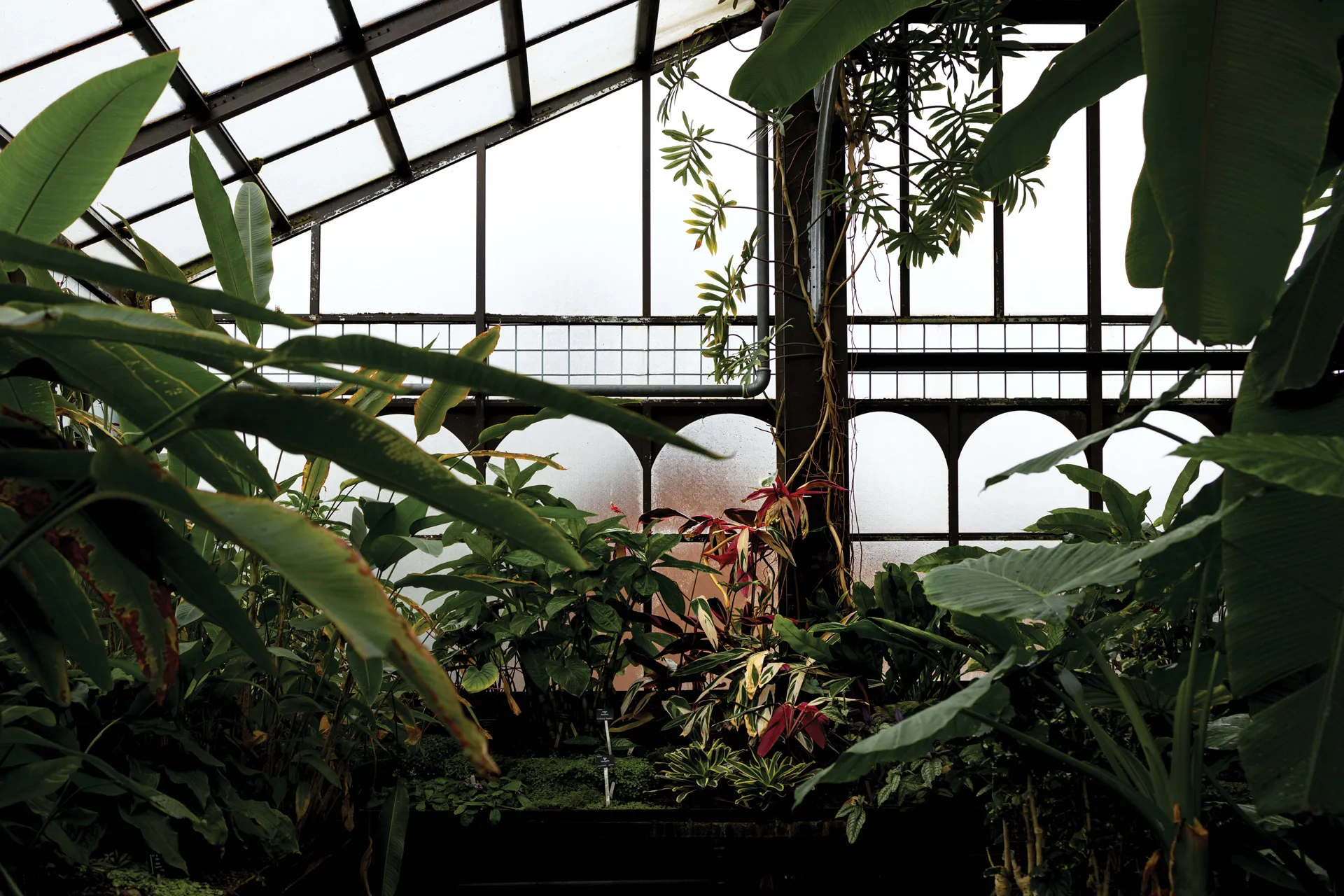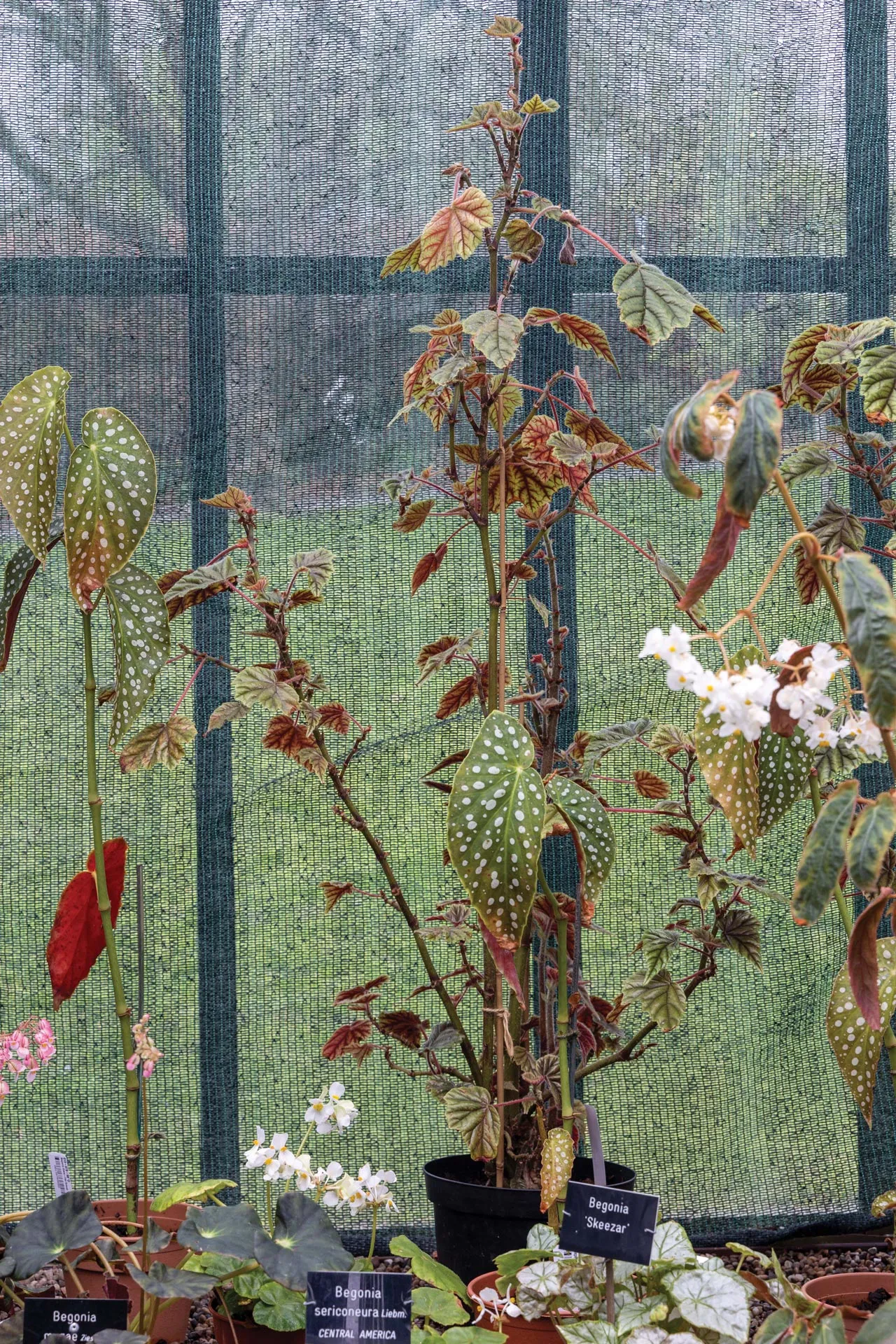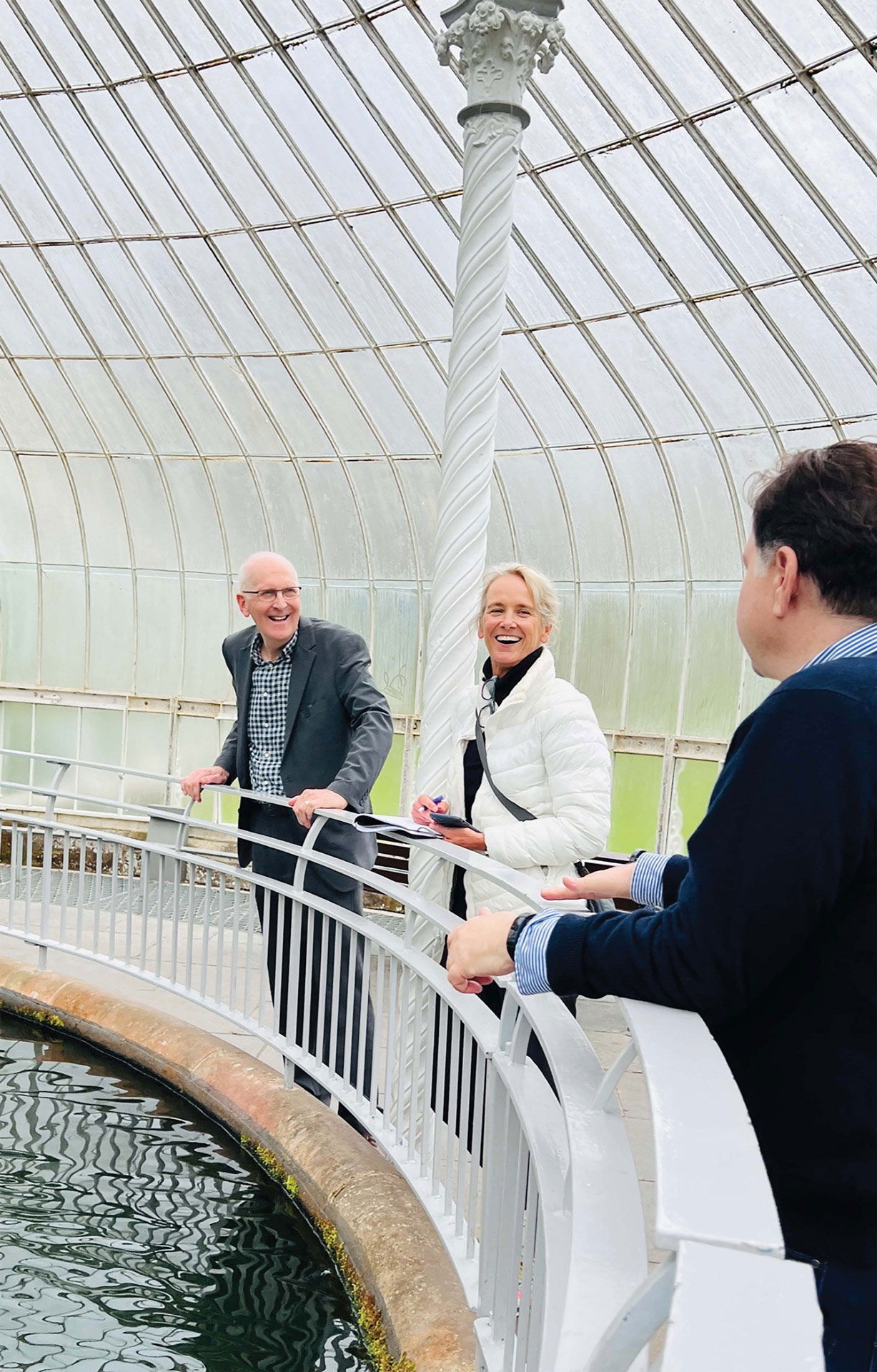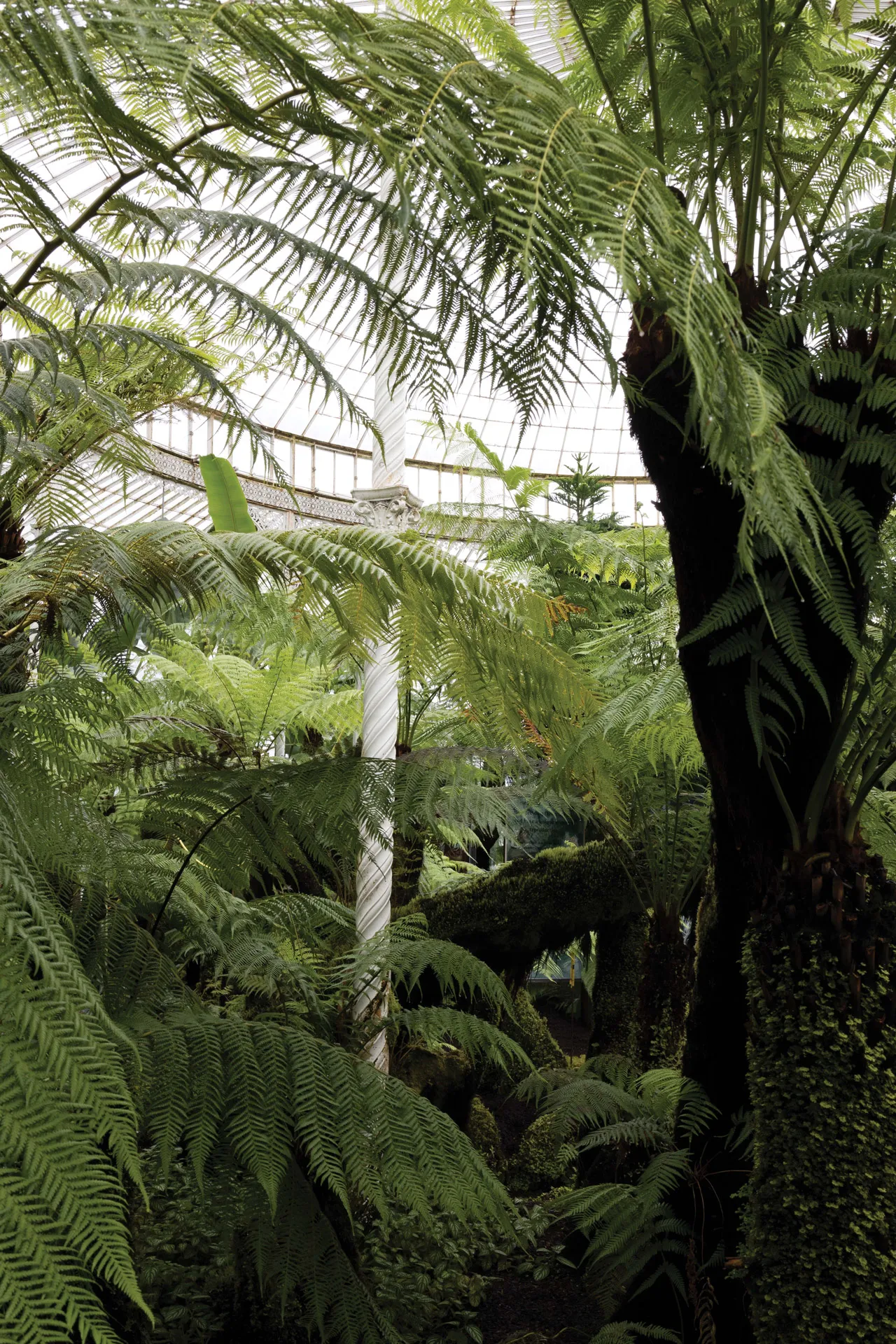 The three-year undertaking gave Ewen a renewed appreciation for the architecture and engineering behind the glorious glass marvel that is Kibble Palace. "The lantern at the top alone weighs two and a half tons, so somehow the way it was designed, the glass becomes structural as well," he says. "The city engineers told us that an application for permission to build it today would be denied."

But now that mostly every pane of glass has been replaced (minus one remaining historic row of them), every bit of iron restored or in many cases recast, every magnificent fern replanted, plus hundreds of tons of rock brought in from Northern Scotland and goodness knows how much dirt, the venerable Kibble Palace is once again a breathtaking work of art, and primed to stand, as a feat of innovation and artistry, an ode to the enduring beauty of glass and the natural wonder of plant life, for another few centuries.

Looking around the luminous dome with its enchanted fern forest, Ewen's eyes flash a wee twinkle. "You can see why we're proud," he says. "If Kibble came back today, I think he'd be amazed to see his glasshouse."