AN ECLECTIC COLLECTION
THE LA-BASED DESIGNER DUO OF TODD NICKEY AND AMY KEHOE ARE THE EMBODIMENT OF CALIFORNIA COOL WITH A DESTINATION-WORTHY SHOP AND STUDIO TO MATCH THAT SHOWCASES THEIR THOUGHTFUL, COLLECTED AESTHETIC AND GLOBETROTTING FINDS. THEIR NEWEST COLLECTION OF URBAN ELECTRIC FIXTURES IS IMBUED WITH THE SAME RELAXED YET REFINED STYLE AND BRIMMING WITH INSPIRATION FROM THEIR LATEST PROJECTS AND TRAVELS.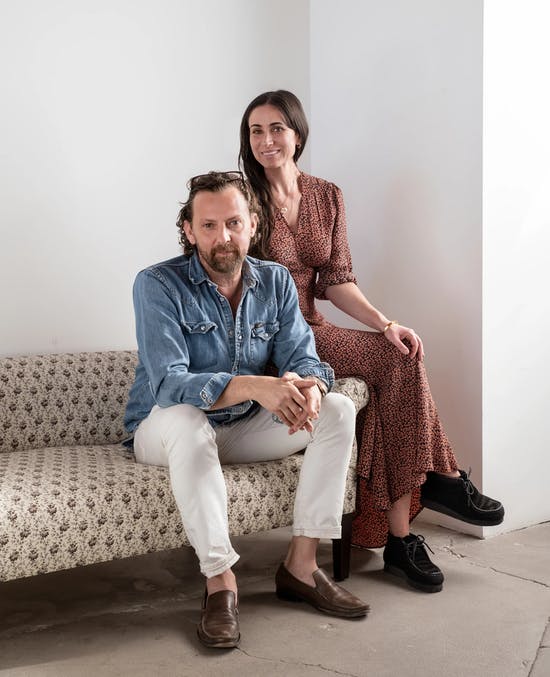 the

WALSKA
Named for Ganna Walska, a renowned Polish opera singer and garden enthusiast whose estate known as Lotusland was a model of botanical inspiration and creativity, this semi-flushmount (or pendant) features leaves that are individually hand-bent and hand-shaped which makes it one of the most organic designs we've ever introduced. VIEW DETAILS
the

MAZARINE HANG
It's no surprise that this design is named after Paris's famed Bibliotheque Mazarine. It is a light with stories built in and stories to tell via our limitless customization capabilities. Regardless of its incarnation, though, the Mazarine Hang reads perfectly over a dining table, and provides the most welcome introduction when displayed in a vestibule. VIEW DETAILS
the

MAZARINE WALL
The Mazarine Wall is a perfectly crisp and tailored sconce. Available as hard or soft-wired, with a perforated metal shade to add personality and customization through color and mixed metals. VIEW DETAILS
the

ROOSEVELT
Old world grandeur meets modern design in this multi-arm sconce developed for the iconic Roosevelt Hotel, a Hollywood institution since 1926. Updated to reflect the new vision for the space, the Roosevelt fixture is as perfect for dining rooms and living spaces as it is majestic entry ways-an ideal statement piece made even bolder and more memorable when combined with unique materials through our COM program. VIEW DETAILS
the

DOME
Simple and sleek yet unmistakeable and eye-catching, this aptly named pendant is the largest dome we've ever created, making it a statement piece from start to finish. VIEW DETAILS
the

QUAD ARM BELDI
Inspired by the iconic Beldi Club in Marrakech, this sleek, refined four-arm pendant adds volume without interfering with exterior views or interior sightlines. VIEW DETAILS
the

Inspiration

Beloved landmarks and places of creative and spiritual refuge from Paris's Left Bank to Hollywood Boulevard inform the wanderlust-inducing approach that has become Todd and Amy's signature.